Why Use Stata
Intuitive · Powerful · Complete

Stata is a complete, integrated statistical software package that provides everything you need for data analysis, data management, and graphics.


Fast, accurate, and easy to use

With both a point-and-click interface and a powerful, intuitive command syntax, Stata is fast, accurate, and easy to use.

All analyses can be reproduced and documented for publication and review. Version control ensures statistical programs will continue to produce the same results no matter when you wrote them. See certification results and FDA document compliance for accuracy details.


Stata's graphical user interface
Broad suite of statistical features
Stata puts hundreds of statistical tools at your fingertips;
From standard methods, such as:
Basic tabulations and summaries,
Case-control analysis,
ARIMA,
ANOVA and MANOVA,
Linear regression,
Time-series smoothers,
Generalized linear models, (GLM)
Cluster analysis,
Contrasts and comparisons,
Power analysis,
Sample selection,
to advanced techniques, such as:
Multilevel models,
Survival models with frailty,
Dynamic panel data (DPD) regressions,
SEM (Structural equation modeling),
Binary, count, and censored outcomes,
ARCH,
Multiple imputation,
Survey data,
Treatment effects,
Exact statistics,
Bayesian analysis,
Matrix programming with Mata
Mata is a full-blown programming language that compiles what you type into bytecode, optimizes it, and executes it fast.Though you don't need to program to use Stata, it is comforting to know that a fast and complete matrix programming language is an integral part of Stata. Mata is both an interactive environment for manipulating matrices and a full development environment that can produce compiled and optimized code. It includes special features for processing panel data, performs operations on real or complex matrices, provides complete support for object-oriented programming, and is fully integrated with every aspect of Stata. We don't just write statistical methods, we validate them. The results you see from a Stata estimator rest on comparisons with other estimators, Monte-Carlo simulations of consistency and coverage, and extensive testing by our statisticians. Every Stata we ship has passed a certification suite that includes 2.3 million lines of testing code that produces 4.3 million lines of output. We certify every number and piece of text from those 4.3 million lines of code. Technical supportStata technical support is free to registered users. And, this is a case of getting much more than you pay for.We have a dedicated staff of expert Stata programmers and Statisticians to answer your technical questions. From tricky data management solutions to getting your graph looking just right. From explaining a robust standard error to specifying your multilevel model. We have your answers.Extensible Resources Community
Complete data-management facilities
Stata's data-management features give you complete control of all types of data.
You can combine and reshape datasets, manage variables, and collect statistics across groups or replicates. You can work with byte, integer, long, float, double, and string variables (including BLOBs and strings up to 2 billion characters). Stata also has advanced tools for managing specialised data such as survival/duration data, time-series data, panel/longitudinal data, categorical data, multiple-imputation data, and survey data. Data Editor
Publication-quality graphics
You can write scripts to produce hundreds or thousands of graphs in a reproducible manner and export them to EPS or TIF for publication, to PNG for the web, or to PDF for viewing. With the integrated Graph Editor you click to change anything about your graph or to add titles, notes, lines, arrows, and text.
Regression fit graphs
Distributional plots
Time-series graphs,
Survival plots
Contour plots
Stata makes it easy to generate publication-quality, distinctly styled graphs.
Real documentation
When it comes time to perform your analyses or understand the methods you are using, Stata does not leave you high and dry or ordering books to learn every detail.
Each of our data management features is fully explained, and documented, and shown in practice on real examples. Each estimator is fully documented and includes several examples on real data, with real discussions of how to interpret the results. The examples give you the data so you can work along in Stata and even extend the analyses. We give you Quick Starts for every feature showing some of the most common uses. Want even more detail, our Methods and Formulas sections provide the specifics of what is being computed and our References point you to even more information.
Stata is a big package and so has lots of documentation – over 14,000 pages in 27 volumes. But don't worry, type help my topic and Stata will search its keywords, indices, and even user-written packages to bring you everything you need to know about your topic. Everything is available right within Stata.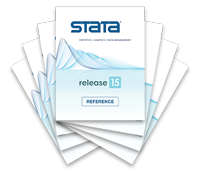 Cross-platform compatible
Stata will run on Windows, Mac and Linux/Unix computers; however, licenses are not platform specific.
That means if you have a Mac laptop and a Windows desktop, you don't need two separate licenses to run Stata. You can install your Stata license on any of the supported platforms. Stata datasets, programs, and other data can be shared across platforms without translation. You can also quickly and easily import datasets from other statistical packages, spreadsheets, and databases.
View compatible operating systems »
Stata Journal
The Stata Journal is a quarterly publication containing articles about statistics, data analysis, teaching methods, and effective use of Stata's language. The Journal publishes reviewed papers together with shorter notes and comments, regular columns, book reviews, and other material of interest to researchers applying statistics in a variety of disciplines.
Stata Journal »
Stata Press
Stata Press® publishes books, manuals, and journals about Stata and general statistics topics for professional researchers of all disciplines. Stata Press® publications are available to purchase in our Bookshop
Visit the Timberlake Bookshop »
Stata News
The StataNews is a free quarterly publication containing articles on using Stata, announcements of newreleases and updates, training schedules, new books, Conferences and Users Group meetings, new products, and other announcements of interest to Stata users.
Sign up to receive the Stata News »
Stata Blog
The offical Stata Blog, Not Elsewhere Classified (NEC), will keep you up to date about all thingsrelated to Stata, including product announcements, service announcements such as on-site and public training, and timely tips and comments related to the use of Stata. Individually signed, the articles in NEC are written by the same people who develop, support, and sell Stata. NEC is informal but useful, and even entertaining.
Read the latest Stata blog post »
Training
There are a multitude of training options available to become proficient at Stata quickly. Stata provides hands-on public training courses, customized on-site training courses, and online training through NetCourses and video tutorials.
View available trainings »
Video Tutorials
Stata's YouTube channel is the perfect resource for new users to Stata, users wanting to learn a new feature in Stata, and professors looking for aides in teaching with Stata.
Visit the Stata YouTube channel »
Stata Conference and UGM's
Whether you are a beginner or an expert, you will find something just for you at the Users Group meetings (UGM's), which are held each year in various locations around the world. These meetings showcase in-depth presentations from StataCorp experts and experienced Stata users that focus on helping you use Stata more effectively.
View upcoming meetings »
A great resource for users is Statalist, a forum where more than 23,000 Stata users exchange over 35,000 postings and responses each month. Statalist is run and moderated by Stata users and maintained by StataCorp.
Join the forum »
User comments
Our users love to share how great Stata is, so we'd like to show you! If you think Stata is great too, send us an email with your comment and we may share it with the Stata community.